The idea:
There is a incredibly massive space base, which can be up to 256x256 blocks (i believe). Now because there is no space biome in minecraft, you'll have to use your imagination, or use a mod like solar apocalypse to kill all surface life
(although im not sure what effects this will have on the robots on the outside when they raid, and outside glass would have to be replaced with the special safe glass)
, or simply download the map when it has been made.
These are sectors to the base:
The 'Life' sector: apartments, libraries, religious building, public areas, hospital? etc
The 'Industrial' sector: mines, workshop, armoury, barracks, repair centre for robots (hospital?)
The 'Military' Sector: Mostly above ground buildings, for the droid militia.
The 'Agricultural' Sector: Giant glass domes on the surface where all of the plant life is grown, and also a garden area.
Robots (npc's with different skins) will be the sole military force of the base. They can survive the outside conditions because they are purely mechanic (you'll have to use your imagination for this bit because all the npc's can survive outside). Therefore they can venture out to other bases and raid.
The space humans will live in apartments, and set off each day to either the agricultural or industrial sector where they work.
Now, im not quite sure how the robots will 'breed', but it definitely wont be with the humans.
The entire base will be one structure, sub buildings within the townhall.
Robots are npc's with different skins and are unable to breed with humans.
Most of the base is underground, with only some areas on the surface - i'm not sure how good the path finding mechanic is though.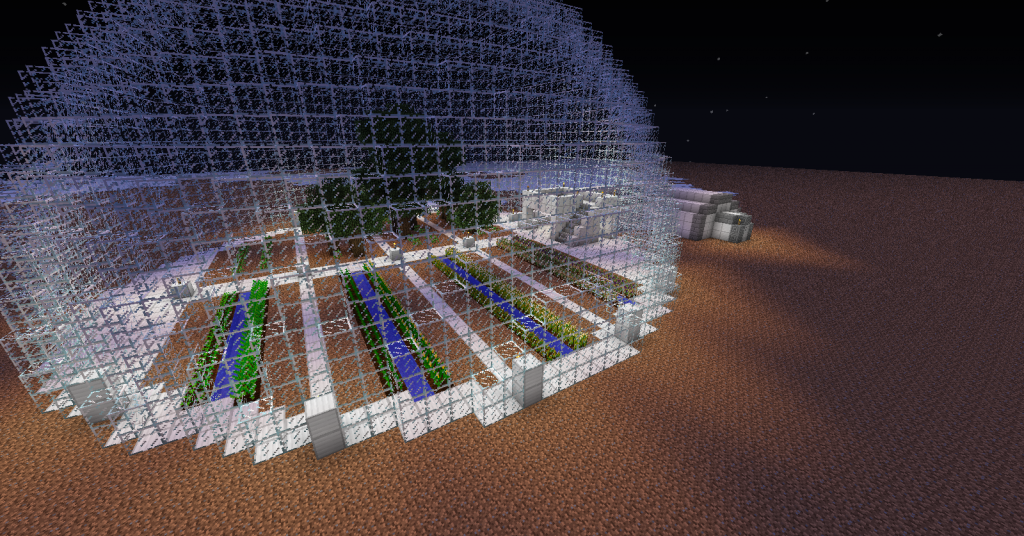 This is subject to change and most likely will: The agricultural dome on the planet surface. To the right of this picture there is a proper space base entrance (yes, with two doors that wont be both open at the same time so air won't escape. see, i've thought about these things to make it more realistic)
I need a strong team of people to help out with this, as it won't get finished on my own.